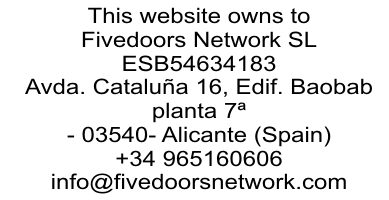 0. The web page mydiscountcode.com user or visitor has the duty to read the service provision conditions detailled in this text, accepting them as valids in the service provision.
1. Aims of the web page mydiscountcode.com: The aim of this web is to facilitate the search of offers, voucher codes, promotions, etc, to the Internet user. All of them characterized for being of public nature, offered by companies that provide their services and products online.
2. Use of content and provided services conditions of this website:
2.1.- The reproduction of the content of any type published in mydiscountcode.com is not allowed without the express consent of the author of the aforesaid website. This prohibition includes texts, graphics, source code and any other type of content offered from this website.
2.2.- In this website may exist content from third parties. In any case, as we always intend to respect the copyright laws, if there were any minimal problem regarding any published content in this website, please contact us through email: info [@] fivedoorsnetwork.com, and the content will be removed (after checking) as soon as possible. As it is our main intention to respect the copyright and other's people work.
2.3.- This website author does not take responsibility for the malpractice regarding the content shown in its website (mydiscountcode.com).
2.4.- mydiscountcode.com offers free information to the general public about third companies, so as to our visitors may get to know and benefit from their promotions. The mydiscountcode.com user is aware of the free, non-contractual and merely informative nature of the services and he/she assumes the duty and responsibility for checking the accuracy of any information offered by mydiscountcode.com by consulting the promoted company. The Internet user frees mydiscountcode.com from any responsibility concerning errata, typographical errors, mistakes in the dates, inaccuracies, etc, in the offered information.
2.5.- The author of mydiscountcode.com does not take responsibility for the mulfunction of the system or the provided service.
2.6.- The displayed promotions are informative and acontractual. The Internet free to mydiscountcode.com of any responsibility for misprints, typographical errors, errors in the date, inaccuracies, etc. in the information provided.
For any controversy that may arise from the use of the website or the interpretation or application of these General Conditions, Spanish legislation will apply, and the competent bodies for the resolution of any dispute will be the Courts and Tribunals of the city of Alicante, Spain.
PRIVACY NOTICE AND DATA PROTECTION
Fivedoors Network S.L., complies with all the requirements established by the current legislation on the protection of personal data, and all the data under our responsibility, are treated in accordance with legal requirements, keeping the appropriate technical and organizational security measures, which guarantee the confidentiality of the same. In accordance with the General Data Protection Regulation (GDPR) of May 25, 2016 and prior to the Organic Law 15/1999, of December 13, 1999, on the Protection of Personal Data (LOPD), we inform you that the personal data you provide us with will be treated with confidentiality and will be incorporated into a file under the responsibility of Fivedoors Network S.L, and will be dedicated mainly to the purposes related to the management of general administration, develop, market and inform about the services and / or products of our company, during and even after your relationship with us by any means including email or similar, unless you tell us otherwise.
DATA THAT MAY BE COLLECTED:
Personal information: In order to achieve our goal of offering you the best discounts on the net, we do not need ANY PERSONAL INFORMATION. If you contact us by any of our e-mails, contact numbers or other means, we may store the personal data that you personally transmit to us.
Log files and access: With each upload of this Website, our servers automatically store general access data about this process in the server log files. This data includes the uploaded website, the IP address of the requesting system, the type of browser and version used, the operating system used and the time spent browsing our website. We do not aggregate such data with other data sources. Temporary storage of the IP address in log files is necessary for technical reasons and to ensure the security of our system, in particular in connection with the recognition of misuse. This purpose is also our legitimate interest in accordance with Article 6(1)(f) of the RGPD. We only retain such data for as long as is necessary for the purposes indicated. In addition, we actively collect more information about your visit to this website and your use of its services and content. That information includes the clickstream of the full Uniform Resource Locators (URLs) to, through and from this website (including date and time), subpages visited, information you searched for, response times, length of visits to certain pages, email openings and which banners or links on the website or in an email were clicked. We use such data for different purposes. For example, we use this information to better understand your needs and preferences so that we can improve this website and its features and provide you with more relevant, interest-based content.
Tracking Systems (COOKIES): We automatically collect such usage data with the help of cookies and similar technologies. We may store unique identifiers in such cookies that may be used to identify your browser on subsequent visits to this website.
Third Party Technologies: We also allow selected third parties to use cookies or similar technologies on this website. These third parties include analytics, advertising networks and other service providers that help us to provide, evaluate and improve this website and our services, and to provide targeted advertising based on your browsing activities and interests. Some of the service providers are based in a non-EU/EEA country. However, we work exclusively with companies that offer an adequate level of data protection in accordance with the provisions of the RGPD. On this website we may use social network plug-ins that allow you to share content on these networks. If you use these features, these networks may use their own cookies to collect data about you. We may disclose some of your information to business partners in connection with the exchange of promotional offers posted on this website, to affiliates that provide joint content and services (such as newsletters and customer support), or to service providers that provide certain services on our behalf, but only to the extent necessary to carry out their respective services. Some of the service providers may be located in a country outside Switzerland and the EU/EEA. However, we work exclusively with companies that offer an adequate level of data protection.
Subscribe to our Newsletter: We have an electronic newsletter in which if you wish we can send you the best discount codes, offers and promotions of the online stores. In this newsletter we only keep an e-mail address and technical data (registration time, opening of the bulletins, opening ip, navigation, etc.). All our e-mail addresses contain links to unsubscribe or modify your preferences. We use technical service providers to manage our newsletters which occasionally may have their headquarters and servers registered in a state outside the European Union, such as Mailchimp.com in the USA. However, we only use companies that offer an adequate level of data protection in accordance with the provisions of the RGPD.
Other information: If you have provided us with personal information about a third party, you must have been informed and asked for their consent prior to their inclusion. In those cases of underage users who wish to incorporate personal data in the forms of the website, the prior consent of their parents or guardians will be necessary, exonerating Fivedoors Network SL from any kind of liability arising from the breach of this requirement. The user guarantees that the personal data provided through our website are truthful and is responsible for communicating any changes to them at all times to respond to their current situation. Therefore, we understand that if you provide us with your data you expressly authorise us to process your data in accordance with the above.
DISCLOSURE OF DATA TO THIRD PARTIES:
We reserve the right to disclose the data or part of the data stored to third parties for technical or legal requirements for the proper functioning of our website, for the sale or study and negotiation of its sale, in order to comply with any legal obligation, or to enforce or apply the terms and conditions of our website, or to protect the rights, property or safety of our company, our customers or others.
ACCESS, MODIFICATION AND DELETION OF YOUR INFORMATION:
You have the right to know, modify, delete and carry the information we store about you. If necessary, you may exercise your rights of access, rectification, cancellation and opposition by writing to Fivedoors Network S.L., located at Avda. Cataluña 16, planta 7 - Alicante or by contacting us via the links below all emails sent: delete subscription | modify subscription details... We inform you that your personal data will not be segmented or used for any other commercial purposes than those described above. The user guarantees that the personal data provided through our website are truthful and is responsible for communicating any changes to them at all times to respond to their current situation. Therefore, we understand that if you provide us with your data you expressly authorise us to process your data in accordance with the above. As a general rule, this information never includes your name or an alias that allows you to identify yourself, and we only register an e-mail in our newsletter (to which you can automatically unsubscribe), any request for access to your data may be subject to a fee, to cover our costs arising from trying to track certain data that are difficult to associate with a specific person.
COOKIE NOTICE
This website (mydiscountcode.com) does not collect any private information of the visitor (See Privacy Policy). It simply collects specific information for the cookies, in order to allow the proper functioning of the system.
A cookie is a file that is downloaded to the computer/smartphone/tablet of the user when accessing certain web pages to store and retrieve information about navigation that occurs from that computer.
DEACTIVATION OF COOKIES. The user may - at any time - select which cookies you want to that they work on this web site through the browser settings; for example: