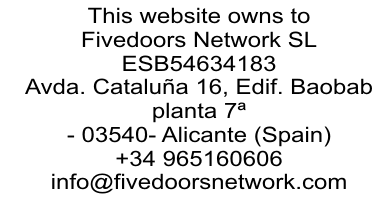 0. The web page mydiscountcode.com user or visitor has the duty to read the service provision conditions detailled in this text, accepting them as valids in the service provision.
1. Aims of the web page mydiscountcode.com: The aim of this web is to facilitate the search of offers, voucher codes, promotions, etc, to the Internet user. All of them characterized for being of public nature, offered by companies that provide their services and products online.
2. Use of content and provided services conditions of this website:
2.1.- The reproduction of the content of any type published in mydiscountcode.com is not allowed without the express consent of the author of the aforesaid website. This prohibition includes texts, graphics, source code and any other type of content offered from this website.
2.2.- In this website may exist content from third parties. In any case, as we always intend to respect the copyright laws, if there were any minimal problem regarding any published content in this website, please contact us through email: lorenzoescanciano (at) yahoo.es, and the content will be removed (after checking) as soon as possible. As it is our main intention to respect the copyright and other's people work.
2.3.- This website author does not take responsibility for the malpractice regarding the content shown in its website (mydiscountcode.com).
2.4.- mydiscountcode.com offers free information to the general public about third companies, so as to our visitors may get to know and benefit from their promotions. The mydiscountcode.com user is aware of the free, non-contractual and merely informative nature of the services and he/she assumes the duty and responsibility for checking the accuracy of any information offered by mydiscountcode.com by consulting the promoted company. The Internet user frees mydiscountcode.com from any responsibility concerning errata, typographical errors, mistakes in the dates, inaccuracies, etc, in the offered information.
2.5.- This website (mydiscountcode.com) does not collect any private information of the visitor (See Privacy Policy). It simply collects specific information for the cookies, in order to allow the proper functioning of the system.
2.5.1.- A cookie is a file that is downloaded to the computer/smartphone/tablet of the user when accessing certain web pages to store and retrieve information about navigation that occurs from that computer.
2.5.2.- DEACTIVATION OF COOKIES. The user may - at any time - select which cookies you want to that they work on this web site through the browser settings; for example:
2.6.- The author of mydiscountcode.com does not take responsibility for the mulfunction of the system or the provided service.
2.7.- The displayed promotions are informative and acontractual. The Internet free to mydiscountcode.com of any responsibility for misprints, typographical errors, errors in the date, inaccuracies, etc. in the information provided.
PRIVACY POLICY AND DATA PROTECTION
Fivedoors Network SL, meets all the requirements established by current legislation regarding the protection of personal data, and all data under our responsibility are treated in accordance with legal requirements, keeping the due security measures both technical and organizational, They guarantee the confidentiality thereof. In accordance with the Organic Law 15/1999 of 13 December on Personal Data Protection (LOPD), we inform you that the personal information you provide will be treated confidentially and incorporated into a file for Fivedoors Network SL, and will be devoted mainly to the purposes related to general administration, develop, market and reporting services and / or products of our company, during and even after their relationship with us by any means including email or similar, except that we state otherwise. If you have provided personal information to a third party shall, prior to their inclusion, have informed consent and requested the ends set forth herein. In cases of underage users who wish to incorporate personal data in web forms, it is a necessary requirement prior consent of their parents or guardians, exonerating to Fivedoors Network SL from any kind of liability arising from the breach of this requirement . If necessary, you can exercise your rights of access, rectification, cancellation and opposition by writing to Fivedoors Network SL, located in Avda Catalunya 16, 7th floor -. Alicante or by contacting us via the links on the bottom of all emails sent: delete subscription | modify data subscription. We inform you that your personal data will not be segmented or used for commercial purposes other than those stated above. The user guarantees that the personal data provided through our website are true and is responsible for communicating any changes thereto so that, at all times reflect the current situation. Therefore we understand that in the course of providing your information expressly authorize us to perform the processing of data as described above.